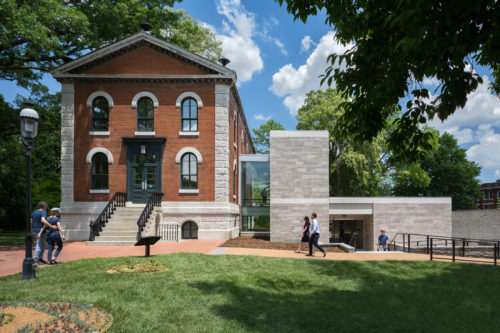 Christner, Inc. and Fenton-based masonry contractor Grant Contracting, were recently awarded The American Institute of Architects (AIA) St. Louis 2019 Design Award in the craftsmanship category for their work on the Stephen and Peter Sachs Museum at the Missouri Botanical Garden. The award is given to local firms for superior craftsmanship in the construction industry in a specific trade profession. The winning projects represent great skill, patience, and attention to detail of the craftsmen, who beautifully carry out the design intent of some of St. Louis's most expressive and complex building projects.
"We are honored to receive this award recognizing the quality of our craftsmen. Missouri Botanical Garden is full of masonry gems, and it is special for us to add to this legacy," said Brian Grant of Grant Contracting.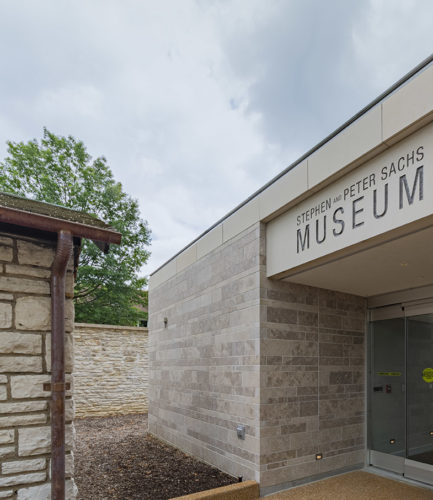 The Stephen and Peter Sachs Museum was built in 1859 for the purpose of housing the Missouri Botanical Garden's original library, herbarium and natural history specimens.  After being closed to the public for over 35 years, this historic gem recently underwent a major restoration and expansion. The hand-painted ceiling mural of the main exhibition space was conserved and restored, as well as the stairwell, floors and cabinets. The new addition provides accessible entries to the museum and expanded restroom facilities. This space will host a variety of events for the Garden.
Working with the client, it was deemed important that the addition respond to the simplicity of the original landmark building, but also be distinct. To accomplish this goal, the addition is clad in a dolomitic limestone, relating it to the existing museum building and to the adjacent historic stone wall surrounding the Garden. The timeless qualities of the material relate the addition to its historic context, but the precision cut and assembly of the new stone walls render the addition as a distinctly contemporary form.
"The superb craftsmanship and clean lines of the stone walls were critical to achieving the design objectives of the project," said Ryan Kopp of Christner. "The stone walls of the addition represent local craftsmanship at its best."
The Grant Masonry team included Garrin Rott (stone mason foreman) and Brian Grant (project manager). The Christner team included Dan Jay (principal), Ryan Kopp (project designer), Denise Buehrer (project architect), and Robin Ringwald (project manager). Tarlton served as the general contractor on the project.