We are ecstatic to welcome three talented individuals to the shareholder group at Christner!  Broadening ownership to create a more inclusive leadership group that represents the full spectrum of what we do as a design firm is something we've been working towards for quite some time.  This approach to leadership is more representative of our collaborative design process and aligned with our core value of engaging diverse perspectives in meaningful ways.
Please join us in welcoming Liz Beeks, Ryan Kopp, and Jeff White as our newest shareholders.  Liz, Ryan, and Jeff: We thank you for your commitment, your passion, and your expertise.  Christner is a better firm because of it.  We look forward to having your voices at the table as we evolve and grow as a firm.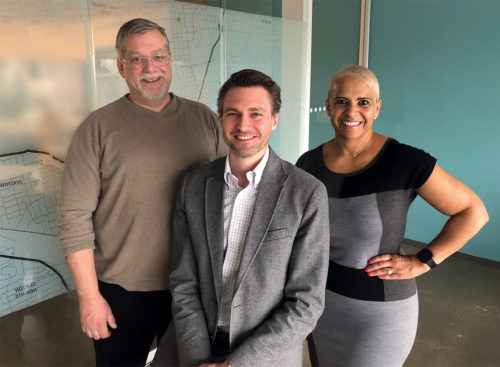 Liz Beeks
Liz has been integral to our firm's operations for over 30 years.  As the Director of Accounting she handles crucial information with the utmost of integrity, has implemented financial management processes that are lightyears ahead of other firms, has contributed to sustainable initiatives in moving the accounting department to a paperless system, and frequently engages with the office to champion service projects.
Ryan Kopp
As an architect that embraces and excels in the roles of both designer and technical project architect, Ryan is committed to resolving design and technical details in elegant, thoughtful ways.  Ryan has worked on some of the firm's most complex, high-profile projects of late – the Danforth Plant Science Center Expansion, COCA's (Center of Creative Arts) New Addition, and the Sachs Museum Expansion at the Missouri Botanical Garden – continually striving to uncover the design opportunities that lie within each challenge, and making a clear impact in elevating the quality of work we do at Christner.
Jeff White
Jeff operates deftly in an extremely important, complex, and challenging part of our business.  As the Director of Construction Administration, his perseverance and eye for detail during construction phases is undeniably critical to the success of our projects and the success of our firm.  His vast knowledge and ability to quickly and creatively troubleshoot challenges in the field make him an indispensable asset and phenomenal mentor to everyone here.