The opening of Parkview Tower brought an exciting new building to the BJC HealthCare Washington University Medical Campus. BJC worked closely with a team of architects from multiple firms to achieve their vision for this new facility. A gracious, contemporary entry lobby welcomes patients and family members into this prominent structure on the northwest corner of Forest Park Parkway and Kingshighway. The inpatient floors represent the latest in patient care and integration of technology. They offer family amenities and supportive wayfinding.
While I greatly enjoyed the tour of these public areas during the building's grand opening, Christner Architect's design contributions were primarily behind the scenes – surgery, interventional radiology, and sterile processing. These technically-complex areas are the workhorse of hospital operations, and their successful design also impacts clinical efficiency, staff satisfaction and patient outcomes.  While they may never be open to tour by the public, the same care and attention to detail that is evident in the public areas is also applied in the offstage departments of Parkview Tower.  ​
Join us for a behind-the-scenes tour…
While most patients will not remember seeing them, the Operating Rooms (ORs) are central to a hospital's success.  Obviously, the skill of the surgical team will always be the most important factor in that success, but the surgical environment also contributes toward positive outcomes for patients. Operating Room finishes must be durable and easy to clean; lighting must be adjustable throughout the room with very bright, highly-focused procedure lights at the surgical table; and the airflow in the OR must be carefully designed and monitored to reduce the risk of infection by particles in the air.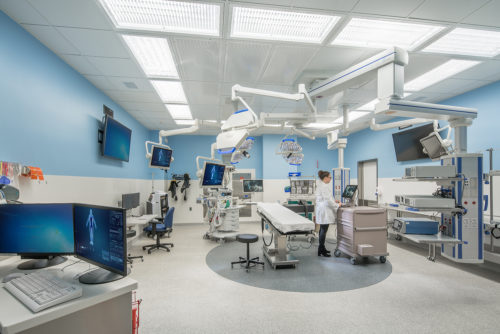 Our team took a methodical approach to Operating Room design at Parkview Tower. Every OR has a standardized layout with designated zones for each activity and every piece of equipment. To reinforce these zones, a dark gray flooring is used to denote the sterile field around the surgical table. Only members of the surgical team who have been properly scrubbed and garbed may enter that zone.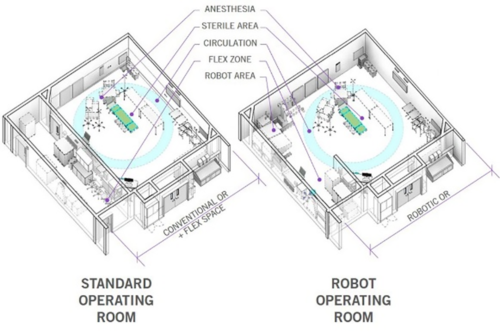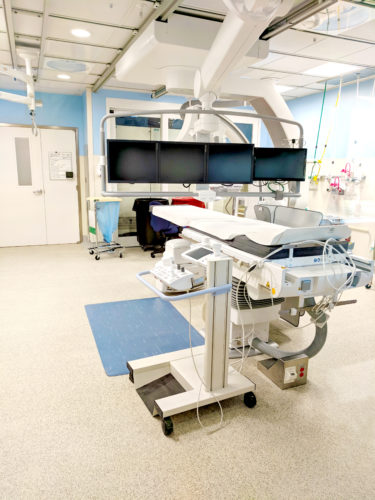 Interventional Radiology is a hybrid between diagnostic imaging and surgical ORs. That makes design of these rooms doubly challenging. The Interventional Radiology rooms must meet the same stringent requirements of the Operating Rooms while also accommodating imaging equipment, lead shielding and monitors that move along tracks in the ceiling. A 2'x2' grid is used to organize ceiling tiles, light fixtures, and air vents between these tracks. These spaces also require an adjacent control room for the radiology equipment. The control room is connected to the procedure room visually with a window and audibly with an intercom system.
Sterile Processing is the area where all surgical instruments are cleaned and sterilized. This is very detailed (and tedious) work that is performed by highly-trained staff. As this function is not visible to the public it is often located internal to the building or in basement space. At the Parkview Tower, Sterile Processing is on an upper floor with large windows overlooking Forest Park. These windows bring natural light and views of nature to the sterile processing work area, staff lounge and conference room. This reduces staff fatigue and improves their satisfaction with the work environment. The department is located directly below surgery where a dedicated elevator can be used to transport sterile instruments and supplies to surgery. Quick access to items that may be needed during an operation allows surgery to function more smoothly and keep cases on time which is efficient for staff workflow and patient care.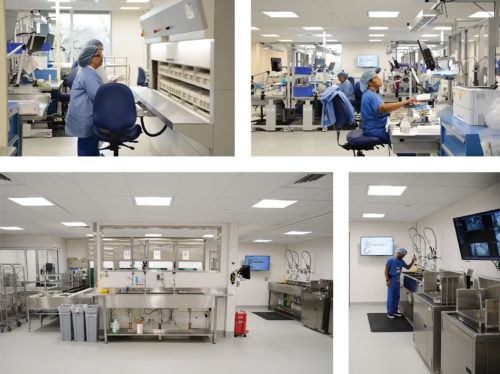 The next time you drive by BJC HealthCare's Parkview Tower, remember there is much more to the building's design than what you can see in its public spaces. The clinical areas that are behind-the-scenes are fundamental to its delivery of world-class healthcare.