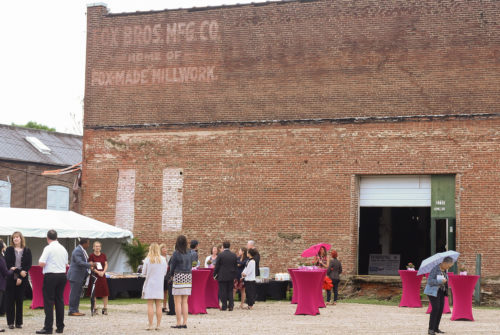 Amid the recent downpours of rain, a few of us here at Christner were lucky enough to share in celebration with Rung for Women.  We've been collaborating with Rung for almost a year on the design of their new headquarters building in Fox Park and were delighted to be a part of the Groundbreaking Ceremony for their project.  Over the next 12 months Rung will be revitalizing an entire city block; restoring a 1920's era warehouse and adding almost 16,000 sf of new space to support their mission of providing co-located services to help women break the cycle of inter-generational poverty and achieve holistic self-sufficiency.
This project in particular is an immense source of pride for our firm.  Not only has it been a pleasure to work with Rung, but as an extension of their mission, Rung's leadership has advocated for female involvement throughout the design and construction of their building.  It's not often that clients specifically request women on their team (in fact, this is the first time it's ever happened to us).  From the project's lead designer to the project manager to the senior project architect, our team was full of talented females working to empower Rung's mission through the design of their new campus.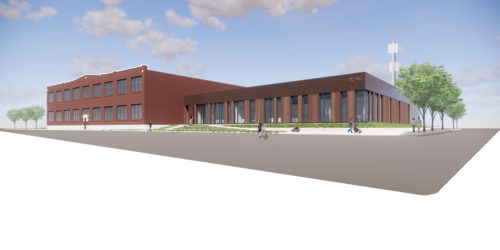 A few sentiments that we shared at Rung's Groundbreaking Ceremony:
We know that we – the collective we – communicate value and worth to people through the spaces and cities we design for them.  When working with the Rung for Women team to design their building, we focused on removing the barriers to self-sufficiency for women by literally removing barriers to create a co-located, collaborative facility.  The renovated spaces here will bring so many passionate organizations together in one place and will provide Rung for Women members with all of the resources to focus on their whole selves.  With spaces to nourish their bodies – from the onsite orchard and gardens, to the commercial kitchen and fitness center – and spaces to nourish their minds – with areas for learning, counseling, and the arts.  
Ali and Leslie and the entire Rung for Women team – we have the utmost admiration and respect for you.  Thank you for entrusting us to be a part of bringing your dream to life.  Projects like this happen once in a lifetime.  From day one, we have felt the weight of your mission and the pressure to do it justice; do it justice for both you and for St. Louis