Happy International Women's Day. As a woman-owned business, Christner Architects fully understands the benefits that strong women leaders offer our community. We continually pursue opportunities to enrich the profession, support community efforts that celebrate diversity and inspire inclusion, and encourage women of all backgrounds to discover and pursue careers in architecture and design.  On International Women's Day, we would like to introduce our recent hires, all who happen to be women!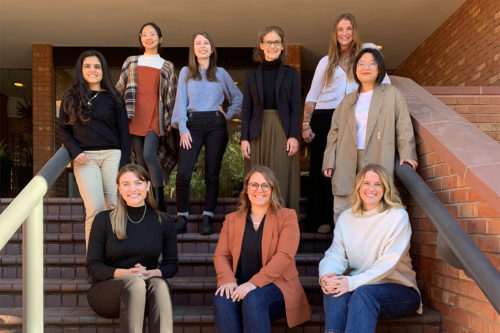 Front Row (left to right): Abigail Carney, Jenny Brcic and Rachel Adkin; Back Row (left to right): Kriti Chaudhry, Yafeng Liu, Darian Lavine, Megan Folkmann, Madison Feltz and Xiaoyu Yang.  Not pictured: Zoe Mitrisin
Christner Architects is happy to announce ten new additions to our team over the past 18 months.  We are thankful to have been able to navigate the course of this pandemic while also still successfully delivering projects that align with our mission of providing exceptional design work that helps to strengthen and grow the St. Louis region.  With our transition to a WBE firm in 2018, we have made a proactive commitment to promote diversity and inclusion within our office and throughout the industry.  We are proud to say that out of our professional staff, 61% are female, which far surpasses the national average of 15%.  We are excited to welcome these talented individuals to our team and look forward to the positive impact they will have on our culture and project success.