I recently attended the Patient-Centered Design Conference at SCAD in Savannah. The purpose of this conference is to give the patient experience a greater voice in the design of hospital architecture. The format was unique in that groups were formed with a balance of design professionals, healthcare clinicians, and product designers. These groups rotated together through a series of topics like behavioral health, chronic diseases, neonatal intensive care units, surgery and intensive care. Each topic was introduced by patients and clinicians sharing their personal experiences. It was heartbreaking to hear some of these stories – a mother who waited by her daughter's bedside for days until she awoke from a coma, a young adult who struggled with chronic diseases and had a painful transition from warm and friendly pediatric environments to cold, sterile adult institutions.
While it was difficult to hear about the challenges that these individuals faced, it was inspiring for our teams to empathize with their stories. We immediately began thinking of ways that the built environment could have been more approachable, more supportive, more humane. On the second day, each group made the same circuit and brainstormed ways that those same patient experiences could have been improved through design.
The design of neonatal units has been a particular favorite of mine since I had worked on the NICU design at SSM Cardinal Glennon Children's Hospital when I was expecting my own first child, so I was especially looking forward to the NICU session. I was surprised to find that the parent who shared her child's NICU experience was speaking about their stay at Mercy in St. Louis which was another unit that I had designed. The mother spoke very highly of her experience, noting that the proximity of the NICU to her postpartum room and space for the family and visitors in the patient room allowed her to spend time comfortably at her child's bedside. The family lounge featured amenities like showers and laundry facilities that she appreciated during her stay.  While design for the patient experience is central to all healthcare spaces, in a NICU, it can be more complex as the needs of infants, families and staff vary greatly.
At Christner, we have worked with a number of healthcare organizations as they transitioned from ward-style nurseries to contemporary NICUs. Below are a few features we consider important in NICU design.
Family Inclusion and Support
The shift from bays to private NICU rooms allows greater inclusion for family members during their stay. As more time is spent at the bedside, comfortable seating is crucial – especially for a post-partum mom who may be recovering from a C-Section. Comfort is not only important for the sleep sofas so that parents can be well rested, but also for the rocker or recliner at the bedside as parents are encouraged to do "kangaroo care" where a parent and baby have skin to skin contact for an entire 90-minute sleep cycle. This helps to regulate babies' heart rates, breathing, temperature, and organ function.
Space away from the bedside is also an important factor in NICU design. Family lounges create a retreat from the stress of alarms and activity in the patient room. When a parent has a child in the NICU, regular life activities are put on hold. Having a convenient place to grab a snack, check email, or catch up on laundry can provide a sense of normalcy and control. Because this can be such a stressful and uncertain time, support groups often bring in food and have community-building activities to support parents during their stay. Ideally, a separate public waiting space would be offered with play space for siblings so that the lounge within the unit can be a retreat for parents who may be looking for a quiet respite spot.
(Picture)
Lighting and Sound Control
Appropriate control of sound and light levels within NICU rooms is critical to creating a healing environment for these sensitive patients. Careful consideration of light fixture placement and the ability to provide family members and medical staff convenient and intuitive control over the lighting in the room helps eliminate unnecessary exposure. Special wall construction is used to reduce sound transmission between rooms; however, much work is still needed to reduce noise produced by alarms and machines such as ventilators that are often required at the bedside.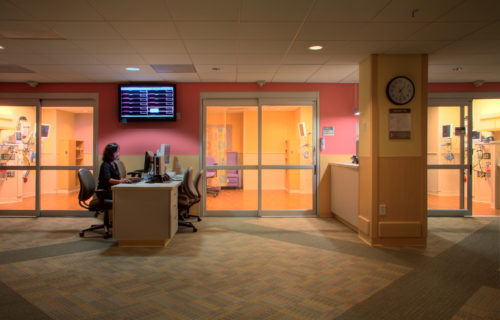 Enhanced Patient Monitoring Capabilities
Decentralizing nurse stations allows them to be located closer to patients and their families. Clear sightlines should be created from these stations to each baby and their monitor. Placing large screen monitors which broadcast each patient's vitals to physicians and nurses located at these touchdown stations further improve the hospital's patient-monitoring capability.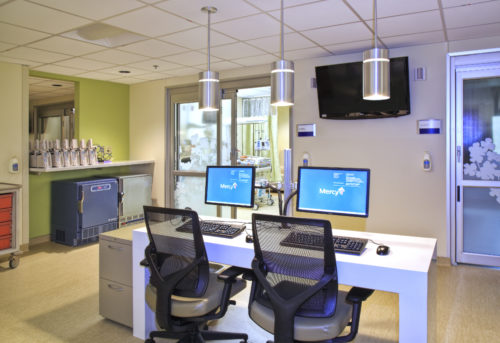 The Future of NICU Design
Looking forward, there is great potential for advancement in the quality of NICU environment.  For example, the concept of a combined patient room for the care of a post-partum mother and her NICU baby in the same room. This thought immediately raises red flags for most people who are familiar with healthcare operations. There would be two different types of patients in those rooms, both requiring specialized care and unique equipment that would need to be stocked nearby. It would be disruptive for both the mother and the baby each time care is provided to the other. However, providing care for them separately also presents its challenges. While separated from her child, the mother is in a constant state of distress as she is left to speculate about what is happening with her baby and whether the prognosis has changed. Family members must decide whether to spend their time supporting the mother or the baby. While the scenario of a shared care model might seem far-fetched, it is currently being constructed in the new 116,000-square-foot addition to Memorial Hospital in South Bend, Indiana where leading neonatologist Dr. Robert White currently practices. I'm looking forward to seeing the outcome and its impact on the future of NICU design and patient care.