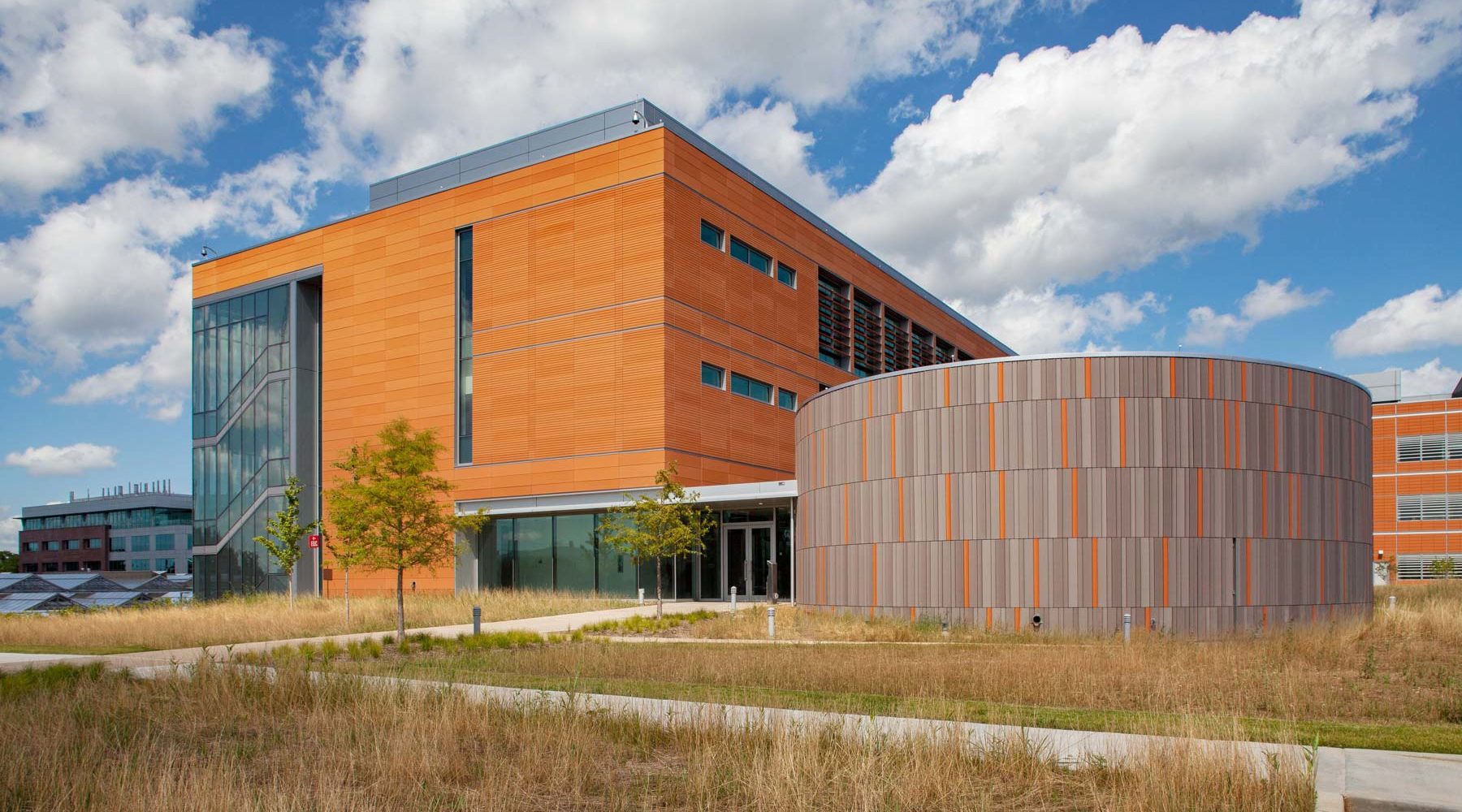 Enabling great science with design
Auditorium
Cafeteria
Laboratory
Landscaping
Offices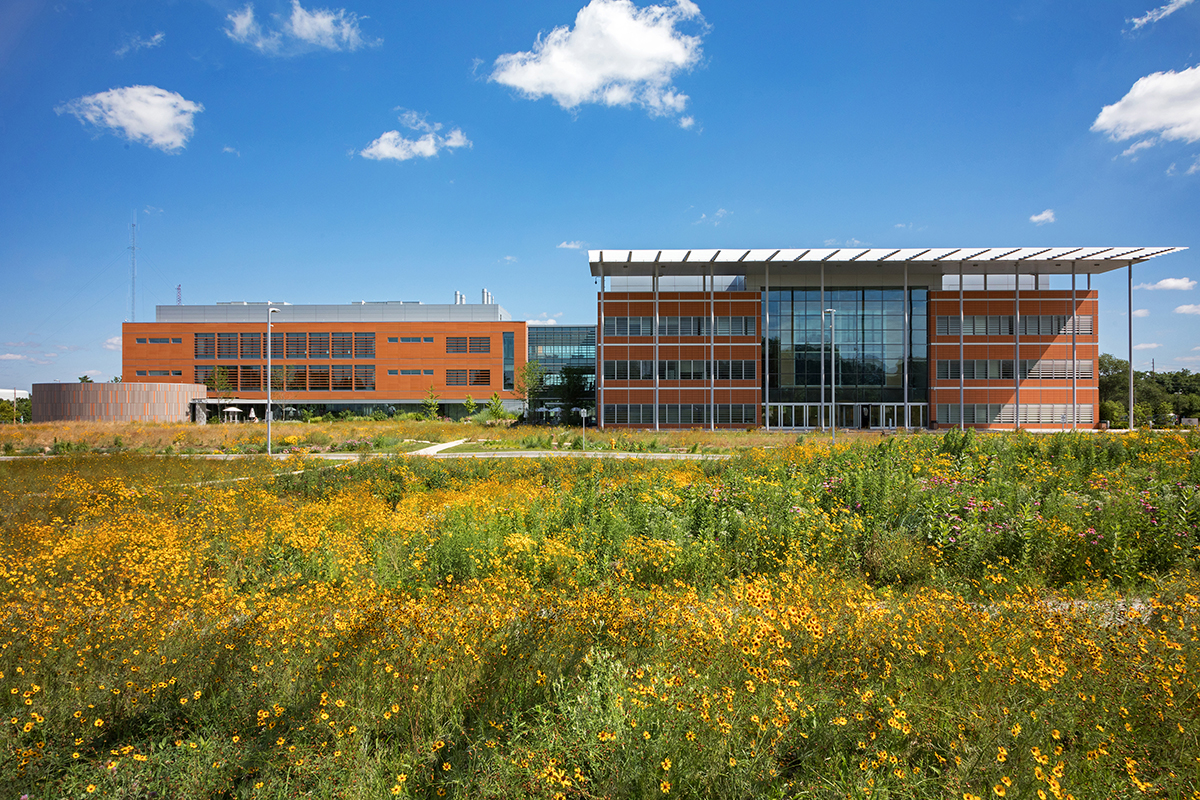 Project Story
The William H. Danforth Research Wing of the Donald Danforth Plant Science Center provides space for 100 scientists who research plant biology, bioenergy, and sustainable agriculture. With a design that enables advanced scientific innovation, this expansion supports the Center's mission to "improve the human condition through plant science". In addition to providing highly functional and flexible research space, the project reinforces a sense of community, enhances collaboration, connects visitors with its science, and grounds researchers with their natural environment in a profound and poetic way.
Size

79,000 SF, 2,000 SF roof garden, 29 acres

Status

Completed 2016, LEED Gold

Awards

2016 AIA St. Louis Citation Award for Architecture

2016 AIA St. Louis Merit Award for Craftsmanship

2018 ASLA Central States Merit Award for Landscape Design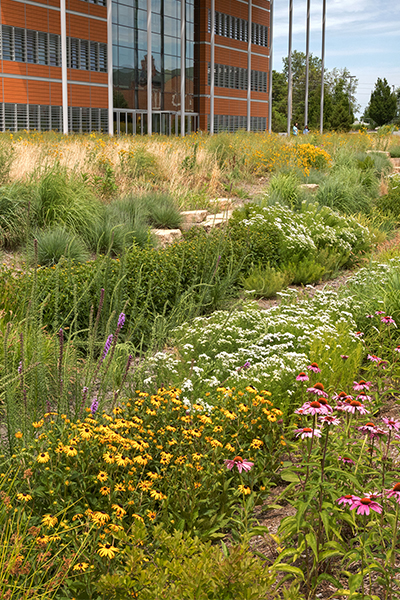 DDPSC challenged Christner to create an architectural complement to its original iconic building while enhancing its ability to create highly collaborative research. With DDPSC, out team created six principles that guided the design process:
Create high performing research spaces
Put science on display
Reinforce a single research community
Respect the original iconic building
Integrate the buildings with landscape
Create a highly sustainable facility
Guided by six foundational design principles, our design team collaborated to create multiple design options and iterations.  We measured and compared these options to arrive at an economical  solution that would serve DDPSC's needs at a high level. Design progress was shared with a DDPSC steering committee comprised of scientists, administrators and facility leaders.
According to Danforth President, Dr. James Carrington, the expansion project is a major step in the organization's long-range plans to increase their impact through plant science.  The new addition strengthens their scientific community, elevates donor involvement, improves high level research capacity and helps attract the best scientists to the Center.
Highlights
The three-story, 79,000 square foot addition links to the existing building by a new atrium. Highly efficient, flexible and open lab "neighborhoods" are directly connected to write-up spaces via glass partitions. Transparency also affords views into the labs from a public corridor, and opens views to native gardens and greenhouses on the upper floors. A main public concourse runs parallel to the main garden and links the atrium, first floor labs, and auditorium. This "tour corridor" tells the story of DDPSC to visitors and staff alike.
The exterior of the expansion is a precisely crafted, simple volume comprised of terracotta and glass that relates to the original, iconic structure. It borrows the 'architectural' genes of the original building, but reconfigures them in a way that is similar to (but distinct from) the original. Building volumes are configured to interweave with a new sustainable landscape - connecting scientists with their natural environment.
Services Provided
Christner understood that we wanted more than a functional, attractive building. They saw and understood the purpose of our organization, and became our partner to make a lasting impact.

James Carrington, PhD

President, Donald Danforth Plant Science Center