The American Institute of Architects (AIA) St. Louis Chapter recognized excellence in the built environment with its Design Awards program event held on October 28th through a virtual celebration. Through a juried process, projects in various categories were honored for outstanding qualities in design. Christner is excited to share that three of our projects received award recognition.
The Center of Creative Arts Renovation and Expansion received a Distinguished Award in Architecture. The existing building, dedicated in 1950, was originally designed as a synagogue by Erich Mendelsohn and years later was converted to a performing arts center. A thoughtful renovation adapts the existing theatre (the building's original sanctuary) into an experimental performance studio and two large dance studios. Also included in the renovation are new dance studios, an art and design studio, and a commercial kitchen used for culinary classes and event hosting. The new expansion roughly doubles COCA's footprint, providing three new dance studios, a large commons area that connects the existing and new structures, and a 450-seat proscenium theatre with extensive back-of house spaces.  Jury comments included, "We found the design response particularly distinguished for its sectional response to the program and sensitive use of materials that have a very good and engaging conversation with the building."
Christner + Axi:Ome collaborated on this multi-phase project.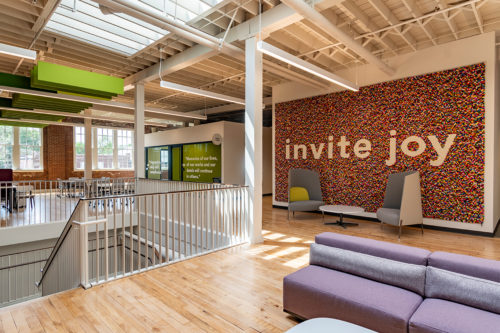 Rung for Women Headquarters received a Merit Award in the Unbuilt Category. The core mission of Rung is to empower women to grow and achieve sustained independence through co-located and coordinated educational, professional, and economic resources. The project includes a restoration of the 1920's Fox Brothers Manufacturing building in the Fox Park neighborhood and a new expansion to support the non-profit's mission. The design reinforces a sense of belonging to a larger community, and it utilizes nature as a unifying element that perpetuates wellness.  Jury comments included, "This project very successfully captured outdoor space at the street edge and on the interior and it deserves commendation for notable restoration of a historic building."
The Rung Headquarters project was completed in September 2020.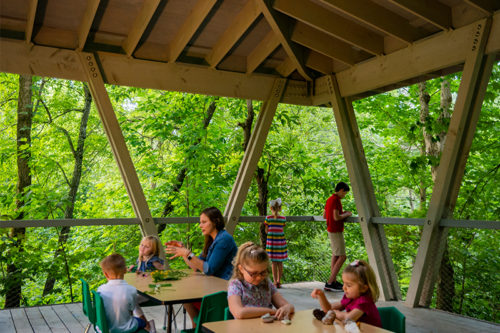 Community School – Outdoor Classroom received an Honor Award in the Small Projects Category. The project is a covered outdoor classroom space for the adjacent elementary school that can support 20-25 students plus two instructors. The siting and design of the classroom creates the perception that it is floating among the trees, where learning can directly interface with nature and the beauty of the site was our driving idea. The result of a charette process, this scheme was nicknamed the "treehouse," and envisioned a covered / elevated platform perched in the branches, providing an immersive experience for students and a strong connection to the surrounding woods.  Jury comments included, "[This project has] a very good singular idea carried all the way through with consistency and deftness. Simple good design and we all very much enjoyed the detailing."